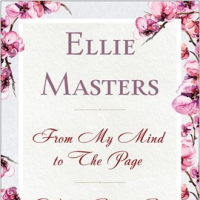 Ellie Masters
Contemporary Romance, Romantic Suspense, Romance, Erotic Romance, Dark Romance & Erotica
ELLIE MASTERS is a multi-genre author, writing the stories she loves to read. These are dark erotic tales. Or maybe sweet contemporary stories. How about a romantic thriller to whet your appetite? Ellie writes it all. Want to read passionate poems and sensual secrets? She does that too. Dip into the eclectic mind of Ellie Masters, spend time exploring the sensual realm where she breathes life into her characters and brings them from her mind to the page and into the heart of her readers every day.

When not writing, Ellie can be found outside, where her passion for all things outdoor reigns supreme: ATV-ing, scuba diving, hiking, and breathing fresh air are top on her list. Ellie's favorite way to spend an evening is curled up on a couch, laptop in place, watching a fire, drinking a good wine, and bringing forth all the characters from her Mind-to-the-Page and eventually into the hearts of her readers.
"Our hearts of stone become hearts of flesh when we learn where the outcast weeps. "